As more companies, organizations, and individuals use social technologies and networks, a vast array of community structures are being used for various goals.  There are a number of great models for understanding the ecosystem in which every company is part.
Bill Johnston built a Social Media Ecosystem diagram that is a great place to start:
See point 4 from Bill's presentation 5 Things in 10 Minutes for a more detailed version of this chart.
Amy Sample Ward also recently shared her perspective on this large ecosystem, differentiating by using the term 'community', 'network'  and 'crowd':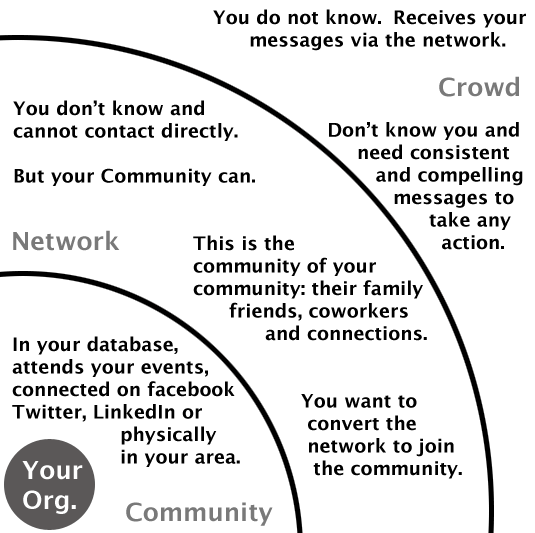 There are three primary options for organizations today when thinking about how to participate in communities:
Participate in the conversation around your market taking place on a wide range of social channels
Participate in/sponsor/support 3rd party communities in your space typically run by associations, media, or information companies
Build your own community
Every organization out there should be participating in the first type of community because it is happening with or without your participation and if you don't participate, you have no influence at all. As you consider the second and third option above it requires increasing commitment and resources in return for, if you do it well, increasing share of attention.
Your goals and objectives, along with the competitive landscape, will help you decide what type of community is ideal – or often what mix of community participation is ideal. Two of the key drivers are the complexity of the outcome for which you are looking (awareness, advocacy, customer support, ideation, collaboration, recruiting, etc) and the complexity of your business, your market, and your target member. The higher the complexity, the more challenging it is to build a community through public social networks because the learning process will require many, many interactions and touch points. I've build a simple (and generalized) chart to display these choices:
No one can tell you, without a deep understanding of your specific context, which type of community participation is right for you. But for all of us doing community management, we must define what community means to us and once we define that, how we will optimize our operations to participate and influence that community in a way that adds value to its members.
How do you think about the ecosystem in which you participate?
To get more of our expertise join TheCR Network, subscribe to TheCR Focus, subscribe to our blog, follow us on Twitter.